My obsession and fascination with fitness began in high school, where I was a 3 sport athlete. At Medaille College I majored in Sports Management and I was determined to work in the fitness industry. My career began in 2002 at the Village Glen Tennis and Fitness Club where I worked in the fitness center and became a certified personal trainer. I loved everything about working in the gym, I knew I had found my calling. It was such a healthy working environment, surrounded with positivity, helping and encouraging people all day long. I was into bodybuilding for a period of time, and marathon running, both very extreme forms of training. In 2006 while in San Diego for a marathon I decided that I would move there. While living in San Diego I worked at and belonged to various different types of gyms. Naturally learning more and more about the business of fitness. When I returned to Buffalo in 2008 I took a job as a personal trainer in a Pilates & Fitness studio. That was my first introduction to Pilates and the small studio environment. I slowly began to practice and understand this complex system of exercise that was developed by one man, Joseph Pilates. Since then I have grown in my practice and as a teacher. In 2013 I traveled to Nosara, Costa Rica where I completed my Mat and Reformer Training at Pilates Nosara. I completed my Barrel and Trapeze Table training in Buffalo, NY and hold a Comprehensive Pilates Certification through Balanced Body University. I will always be a student of Pilates; I continue to learn and grow both as a student and teacher so I can take better care of both you and myself.
In September of 2022 I graduated from the Institute for Integrative Nutrition. After two decades of working with clients on improving their fitness, I am now very excited to be offering one-on-one health counseling services. I truly believe that when you have the right support and encouragement, you can make profound changes in your health that can improve the quality of the rest of your life. I am so honored to be a part of your health journey.
I want Pilates Art Studio to be your happy place. Your place for profound self-care, growth, and discovery. This studio represents who I am and what I'm all about. Health and wellness, culture and art, community and love. I love what I do and feel so fortunate to share my passion with you.
716-982-4133
sarah@pilatesartstudio.com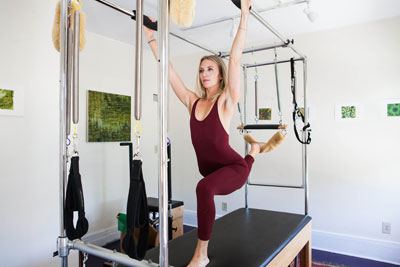 Maggie started her career in Pilates as her first job in 2012 and has traveled cross country including, Florida, Colorado and Hawaii to share her love of Pilates and physical well-being. She holds a comprehensive certification from Peak Pilates. Her accomplishments include working at a top Physical Therapy Facility in Florida to become the first Pilates studio to run private Pilates off of health insurance, travel to share her love of fitness in high end resorts and, mentor other future Pilates instructors to become their best self. Her teaching specialties include but not limited to, elite athlete training, hyper mobility, pre/post-natal, scoliosis/spinal postural improvement and, pre/post physical therapy. Her extensive knowledge and patience exudes through her high-quality teaching and will confidently help you accomplish your health goals.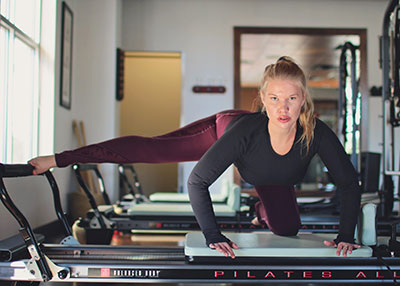 Kalyn has been around Pilates since she started dancing in Buffalo with Neglia Ballet in 2017. She never thought about Pilates as a career until she took a break from dance during the Pandemic and realized how much her body missed daily movement. "I couldn't dance so I started doing workouts in my home and fell in love with the Pilates concept of complete coordination of body mind, and spirit!" She has recently been trained in Buffalo for her mat and reformer certification. "I found Pilates Art Studio and right away felt wonderful in the space with Sarah and knew that the studio was a place I wanted to be a part of. Pilates takes a lot of patience and persistence like any activity you want to successfully accomplish! I aim to guide clients to find the same benefits I found for my own body through Pilates movements in a safe and creative environment."
Kalyn is currently teaching private mat and reformer lessons at a discounted student teacher rate of $40 per lesson.