My obsession and fascination with fitness began in high school, where I was a 3 sport athlete. At Medaille College I majored in Sports Management and I was determined to work in the fitness industry. My career began in 2002 at the Village Glen Tennis and Fitness Club where I worked in the fitness center and became a certified personal trainer. I loved everything about working in the gym, I knew I had found my calling. It was such a healthy working environment, surrounded with positivity, helping and encouraging people all day long. I was into bodybuilding for a period of time, and marathon running, both very extreme forms of training. In 2006 while in San Diego for a marathon I decided that I would move there. While living in San Diego I worked at and belonged to various different types of gyms. Naturally learning more and more about the business of fitness. When I returned to Buffalo in 2008 I took a job as a personal trainer in a Pilates & Fitness studio. That was my first introduction to Pilates and the small studio environment. I slowly began to practice and understand this complex system of exercise that was developed by one man, Joseph Pilates. Since then I have grown in my practice and as a teacher. In 2013 I traveled to Nosara, Costa Rica where I completed my Mat and Reformer Training at Pilates Nosara. I completed my Barrel and Trapeze Table training in Buffalo, NY and hold a Comprehensive Pilates Certification through Balanced Body University. I will always be a student of Pilates; I continue to learn and grow both as a student and teacher so I can take better care of both you and myself.
In September of 2022 I graduated from the Institute for Integrative Nutrition. After two decades of working with clients on improving their fitness, I am now very excited to be offering one-on-one health counseling services. I truly believe that when you have the right support and encouragement, you can make profound changes in your health that can improve the quality of the rest of your life. I am so honored to be a part of your health journey.
I want Pilates Art Studio to be your happy place. Your place for profound self-care, growth, and discovery. This studio represents who I am and what I'm all about. Health and wellness, culture and art, community and love. I love what I do and feel so fortunate to share my passion with you.
716-982-4133
sarah@pilatesartstudio.com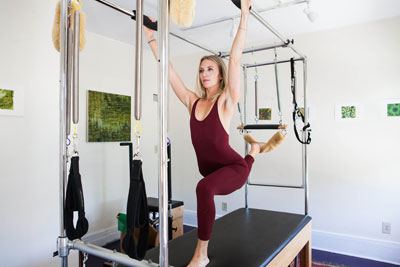 Mary Grace Sullivan is a Pilates instructor, dancer, performance artist, choreographer, educator, and most importantly, Edie's mom. As a Buffalo native, MG has returned to her roots after living in NYC and Austin for 10 years and is excited to invest in her community on the west side of Buffalo. As an instructor at Pilates Art Studio, MG aligns with owner and instructor Sarah DiVincenzo's commitment to promoting health, wellness, and longevity with her clients. As a Pilates practitioner for 18 years, MG developed a committed deeper Pilates practice in 2016 to rehabilitate after breaking bones in her right foot and learning that she had bulging discs in her lower back. The fact that Pilates changed her life by making her stronger than ever, MG was determined to change other peoples' lives with Pilates by becoming an instructor. What she loves most about teaching Pilates is helping individuals create goals and play a major role in achieving them. MG is often seen around town with her fun and vibrant little girl!
MG teaches private and duet sessions honing in on specific areas of her clients. Every body is unique and she caters to the individual needs of each practitioner. In her small group classes, the individual is still encouraged to continue on their own path of strength and wellness while targeting the entire body with mental awareness of moving efficiently.