My obsession and fascination with fitness began in high school, where I was a 3 sport athlete. At Medaille College I majored in Sports Management and I was determined to work in the fitness industry. My career began in 2002 at the Village Glen Tennis and Fitness Club where I worked in the fitness center and became a certified personal trainer. I loved everything about working in the gym, I knew I had found my calling. It was such a healthy working environment, surrounded with positivity, helping and encouraging people all day long. I was into bodybuilding for a period of time, and marathon running, both very extreme forms of training. In 2006 while in San Diego for a marathon I decided that I would move there. While living in San Diego I worked at and belonged to various different types of gyms. Naturally learning more and more about the business of fitness. When I returned to Buffalo in 2008 I took a job as a personal trainer in a Pilates & Fitness studio. That was my first introduction to Pilates and the small studio environment. I slowly began to practice and understand this complex system of exercise that was developed by one man, Joseph Pilates. Since then I have grown in my practice and as a teacher. In 2013 I traveled to Nosara, Costa Rica where I completed my Mat and Reformer Training at Pilates Nosara. I completed my Barrel and Trapeze Table training in Buffalo, NY and hold a Comprehensive Pilates Certification through Balanced Body University.
Years ago, while in Costa Rica for a Pilates training with my husband Mark, we talked about our dream of opening Pilates Art Studio. This studio represents who we are and what we are all about. Health and wellness, culture and art, community and love. We love what we do and feel so fortunate to share our passions with you.
716-982-4133
sarah@pilatesartstudio.com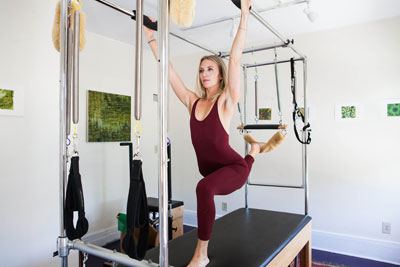 At an early age I was very fortunate to have good art teachers and exposure to art studios, there was no question Art would be my life. Through my teenage years I was taught portraiture in conte and pastels where I did hundreds of portraits. While in college I learned painting and studied a semester abroad in Italy, stayed on and traveled Europe, taking in everything Europe has to offer. Soon after I returned to the US I moved out to California and painted murals in private homes. I returned back East, continued work in interiors while building a body of my personal work living in Buffalo NY having shows with two solos at The Nina Frudenheim Gallery. In 2002 I moved to NYC (Bushwick) where my career took flight, I was fortunate to be represented by The Sears/Peyton Gallery where I had two solo shows and as a result my work has been placed worldwide. Presently, I am independent living in my hometown Buffalo NY with my wife Sarah and son Gianluca, I continue to paint, building my body of work in oils and gouache of my visions inspired by my surroundings.
716-479-6188
mark@pilatesartstudio.com